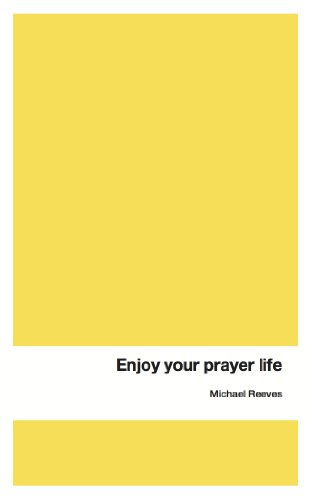 Reviewed by Isaac Stanley…
Let me just say right away, I HIGHLY recommend this book. I am confident in saying that it is the best, most encouraging, most effective literature that I have read on the subject of prayer.
Enjoy Your Prayer Life by Michael Reeves is simply a booklet, but its 46 pages contain powerful meditations on prayer. It is not Reeves' purpose to teach how to pray as much as to proclaim soul-nourishing truths about the nature of prayer. Books on prayer sometimes have a discouraging effect; they set forth standards for abundant prayer that seem unattainable to many Christians who may struggle to pray. Reeves addresses that issue right away. Leaning on Calvin's statement that "Prayer is the chief exercise of faith" Reeves responds, "My first reaction to this is to think: O my Lord, how faithless am I!"
The remainder of the book wisely and graciously avoids making prayer a heavy yoke. Instead it points Christians to wonderful truths that add oxygen to the fire of prayer. Reeves roots prayer in the doctrine of the trinity and in the reality that God is for us when it comes to prayer. Far from hanging their head in shame because of a poor prayer life, believers can run into the open arms of Jesus knowing that He loves them as He does His Son! The Son enjoys fellowship with the Father and "Prayer is learning to enjoy what Jesus has always enjoyed." Son and Spirit intercede on the believer's behalf! Prayer is not a burden but a relationship that God has initiated.
The chapters of this book are short, many are only 2-3 pages, and I found it to be a great blessing to read one chapter in the morning during devotions and meditate on prayer throughout the day. This is a great little book!