Reviewed by Isaac Stanley
Our recommended book of the month for May is Can We Trust the Gospels? by Peter J. Williams.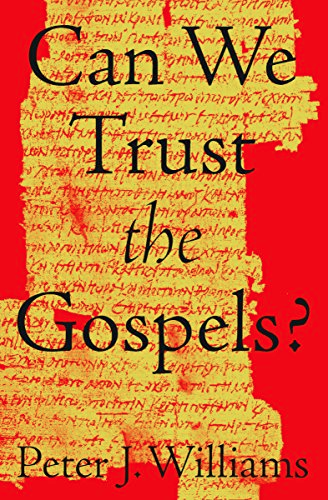 The goal of this book is to make a compelling case that the four gospels – Matthew, Mark, Luke, and John – bear strong marks of authenticity even though they make claims about Jesus Christ that are remarkable. Peter Williams approaches this task by arguing that when all the evidence is considered, it is far simpler to accept that Jesus truly did and said the things contained in the Gospels then to try to rationalize and explain away the content of the Gospels.
The chapters of the book deal with topics such as…
"What Do Non-Christian Sources Say?" Did you know that there are records from ancient, non-christian historians who speak about Jesus?  
"Did the Gospel Authors Know Their Stuff?" Did you know that the Gospels refer to 26 specific towns, while the false gospels (Thomas, Judas, etc) mention 3 or 4?
"What about Contradictions?" Did you know that some things with the appearance of contradiction in the Bible were actually deliberately written that way in order to make the reader think about the underlying truths?
For believers, a book like Can We Trust the Gospels? provides a refreshing reminder that the Book that we trust so much has unmistakable evidence of authenticity and reliability. Also, this book may be a useful resource to give to an unbeliever in order to make them reflect more seriously on the claims of the Bible. Evidence supporting the Bible is not a substitute for the message of Good News, but it might provoke someone to look again at the hope that is found in Jesus Christ.